Discover more from Secret Siam
Exclusive information and insight on Thai politics, history and the elephant in the room
Over 20,000 subscribers
Police attack democracy protesters outside Grand Palace after regime sabotages reform efforts
Also in this edition: Vaccine debacle plumbs new depths, royalist attacks go unpunished, Thai army support for the Tatmadaw exposed, and palace drama gets even more embarrassing
Welcome to the latest Secret Siam weekly news roundup. If you are not a subscriber yet, please sign up here:
It's been an ominous week in Thailand as it becomes clearer than ever that the regime has no intention of compromising, which makes worsening violence highly likely. Here's what's been happening…
---
Bullets versus paper planes
A peaceful protest by democracy activists launching paper planes into the Grand Palace complex to symbolise their demands for reform descended into violent mayhem on Saturday night after police launched a massively disproportionate crackdown. As online news agency Prachatai reported: "Rubber bullets, tear gas, and water cannon were deployed broadly and indiscriminately." The violence demonstrated that the regime, acting on the orders of King Vajiralongkorn, is determined to respond to protests with maximum force and has no interest in compromise.
Saturday's rally was the second major "leaderless" protest this year by the Restart Democracy (ReDem) movement, the latest rebranding of the Free Youth group. They asked people to gather at Sanam Luang, a public park outside the walls of the Grand Palace where Thai monarchs are cremated, to launch paper planes on which they had written their aspirations and demands for a fairer and more democratic Thailand.
Royalist propaganda insists the Thai monarchy is always ready to listen to the people and help those facing problems, but Vajiralongkorn has made clear he has no interest in listening to anyone, and is bizarrely paranoid about any trace of dissent, however peaceful.
Before dawn on Saturday, the military and police added even more fortifications to the wall of shipping containers in Sanam Luang blocking access to the Grand Palace. It was doubled in height with the addition of a second layer of containers, and green netting was erected on top to try to stop[ any paper planes thrown by protesters from reaching the palace grounds. More razor wire was also installed.
Around noon, police raided the offices of progressive publisher Samesky and seized 179 copies of a booklet called Monarchy and Thai Society, the text of a speech last year by jailed human rights lawyer and protest leader Anon Nampa. Protesters had announced plans to distribute the pamphlets and read them aloud at the rally.
Activists began gathering around 5 pm and within an hour the crowd had swelled to well over a thousand people, making it the biggest democracy rally so far this year. There was a sizeable contingent of Red Shirts, a group representing the Free Arts movement, and also a contingent of skateboarders. Future Forward leader Thanathorn Juangroongruangkit announced earlier on Saturday that he'd be coming to join the protest with his skateboard too.
As usual, police warned the crowd that the protest was illegal, and as usual they were ignored. Some protesters started trying to launch paper planes over the container wall. Others began flying kites illustrated with the faces of detained leaders of the democracy movement. The mood was good-humoured and non-confrontational. Numbers were expected to rise further during the evening.
Meanwhile, a group of protest guards began trying to breach the container wall. After attaching ropes, they managed to topple one container from the top row, then dragged the lower one away, opening a gap in the defences around 7 pm. Police responded by unleashing water cannons through the gap and then into the sky over the wall. The crowd remained peaceful, aside from a few hardcore protesters who threw rocks and a few large firecrackers through the gap in the wall. Police warned protesters that if they tried to get through the breach in the containers they would be arrested, but nobody attempted to do so.
Suddenly a large number of police in riot gear charged through the gap and began beating and arresting protesters, and firing repeated volleys of rubber bullets at close range. The crowd fled Sanam Luang and into surrounding streets, some waving white flags to make clear they did not want confrontation, but they were pursued by the police who seemed determined to provoke a more serious clash. Another contingent of riot police advanced from the direction of Ratchadamnoen Avenue to attack protesters from the rear, and most activists fled towards Pinklao Bridge which was the only escape route.
During the chaos, protesters defaced the portrait of Vajiralongkorn outside the Supreme Court with three vertical lines symbolising the democracy salute, and the crossed-out numerals 112 to oppose the lèse majesté law. They also drew a sad face emoticon.
Shortly afterwards the portrait was set alight, the latest in a wave of symbolic burnings of royal pictures. As I reported a couple of weeks ago, Thais have been filming themselves setting portraits of Vajiralongkorn ablaze and sharing the images online using the hashtag #เผาขยะ— burn trash.
Clashes continued for several hours around the Kok Wua intersection and nearby streets. Foreign tourists and residents who had been in bars on Khaosan Road emerged to watch the chaos. Protesters tried to set fire to at least one other portrait of the king, and several more were vandalised.
Some protesters were beaten unconscious by police. Scores of people were badly affected by tear gas, and several were hit by rubber bullets, including at least three journalists who were trying to report on the mayhem. Footage of police violence on Chaloem Wanchat Bridge went viral on social media.
Police claim to have arrested 20 people but Thai Lawyers for Human Rights says at least 32 were detained, with 30 people taken to the Border Patrol Police Region 1 headquarters in Pathum Thani. The continued role of the Border Police in suppressing protests and detaining activists is another deliberate provocation and threat by the regime because of the notoriously murderous role of the paramilitary royalist force in past crackdowns on pro-democracy movements in Thailand.
According to the Erawan Medical Centre, 20 civilians including the three journalists, and 13 police, were wounded in the clashes, but the figure for injured protesters is likely to be a significant underestimate. At least 11 people were hospitalised.
Police claimed they were acting in self defence. "Violence originated from the protesters' side and police have to defend the law and protect national treasures," the deputy head of the Bangkok police, Piya Tavichai, told reporters. But this is clearly nonsense — a peaceful protest was brutally suppressed.
On Sunday, there was more violence against supporters of democracy, and this time the police did nothing. A small crowd of Thais calling themselves the Vocational Group Protecting the Monarchy gathered outside the Bangkok Art and Culture Centre singing royalist songs and shouting nationalist slogans. When a few people on the Pathumwan skywalk flashed the three-finger democracy salute, they were violently attacked by the royalists. Police made no arrests.
Meanwhile, the number of people facing lèse majesté charges is rising so rapidly that it is difficult to maintain an accurate count, but it's at least 75, and human rights lawyer Krisdang Nutcharas says he has given up hope of getting bail for jailed protest leaders. They face months or probably years behind bars.
---
Reform faces "roadblocks and impossible hurdles"
Late on Wednesday evening, Thailand's parliament rejected efforts to press ahead with constitutional reform, despite the fact that even parties in the ruling coalition had previously claimed they supported changing the charter. Royalist politicians said that a Constitutional Court ruling that requires charter change to be approved in advance by a referendum meant that they could not vote in favour of reforming the unfair rules that allow the palace and military to control parliament.
The 2017 constitution drawn up under the supervision of the junta that illegally seized power in a coup three years earlier is deeply unpopular in Thailand, above all because it created a fully appointed 250-member senate that enables the monarchist military regime to hold onto power regardless of the result of elections.
The mass pro-democracy movement that emerged last year initially focused mainly on demanding changes to the charter, but activists later began demanding reform of the monarchy because they concluded real progress would never be possible while the palace and army remain in control of politics. Many self-proclaimed progressives in the Thai establishment and conservative foreign analysts have criticised the protesters for seeking fundamental change and challenging the monarchy rather than confining their demands to constitutional reform, but the events of last week proved the protesters were right all along. The regime will never agree to reform itself.
Only two out of the 250 appointed senators, plus 206 MPs in the lower house, voted in favour of the charter amendment bill, for a total of 208 votes, well below the 367 total votes and 84 senate votes needed to succeed. Regime MPs had threatened legal action against any lawmakers who voted in favour of constitutional change. Only four senators, and no MPs, actually voted against constitutional reform, because the government and its coalition partners are still pretending they are open to the idea, so they just abstained or failed to vote, ensuring the bill was not passed.
During the debate, Move Forward Party MPs including Rangsiman Rome held up pictures of jailed political prisoners, prompting one senator, Kittisak Rattanawaraha, to threaten: "Do you want to join them?" Kittisak is already notorious for threatening to punch a Pheu Thai MP two years ago.
As Thai Enquirer editor-in-chief Cod Satrusayang observed in an analysis last week:
One third of the senators were never going to vote against their own interest and pass a motion that could've seen the body get dissolved. The ruling coalition were also going to pull out all the stops to halt or delay the proceedings – which they did in spectacular fashion…

What happened on Wednesday shows that the constitution will never be amended as long as the senate remains. The road to fix the charter through parliament is filled with roadblocks and impossible hurdles.
BBC correspondent Jonathan Head commented:
This exposes the rigidity in the semi-authoritarian system bequeathed by the military junta in Thailand. Young protesters, many now facing long jail sentences on royal defamation charges, were right — the system cannot be reformed, despite obvious flaws in the constitution
The vote was a vindication of the protest movement. They knew all along that the dinosaurs were never going to vote for their own extinction.
Thai opinion polls are notoriously skewed in favour of the establishment, but even the highly conservative National Institute of Development Administration (Nida) found that 58.49 percent of Thais would vote in favour of totally rewriting the constitution, while only 25.13 percent would vote against.
But given the obstructionism and bad faith tactics of the government, any meaningful reform via constitutional mechanisms remains years away, and in the meantime the royalist regime will continue to consolidate its grip on power.
---
"We love them all the same"
As the kingdom sinks deeper into intractable political conflict, with severe violence looking increasingly likely, Vajiralongkorn continues to demonstrate a pathological disregard for salvaging any respect for the monarchy. During two royal outings last week, to Suphanburi on Tuesday and Ayutthaya on Saturday, the king was again accompanied not only by his wife Queen Suthida but also by his chief concubine Sineenat "Koi" Wongvajirapakdi. In official footage and photographs of the events, Koi was constantly lurking awkwardly in the background
The three of them traveled together on a boat to Ayutthaya where they were driven around in a buggy, smiling and waving to royalist supporters. Meanwhile, with staggering irony, the cabinet approved a new code of conduct for government officials last week, stipulating that anyone committing adultery would be suspended without pay. Deputy government spokesperson Ratchada Thanadire claimed prime minister Prayut "has attached special importance to this issue".
Palace officials are in despair over the constant drama caused by Vajiralongkorn's insistence on having two official female companions, as well as his plans — now apparently on hold — to elevate Koi to the status of a second official queen.
In another sign of the drama inside the palace, the monarchist social media brand Royal World Thailand reported today that supporters of the king who gather on the street to greet him during official engagements have been ordered to stop displaying portraits showing Vajiralongkorn with Suthida, and stop holding up LED boards with slogans saying they love the queen. These light boards became very popular among royalists over recent months, but apparently Koi was offended that she is not included in portraits or slogans being displayed by palace supporters, so they have now been prohibited. Clearly, the "war of the ladies", as Royal World Thailand describes it, is still raging, with no end in sight.
---
Even more madness
A document from the Department of Mental Health was shared on social media last week, asking hospitals to be on the lookout for anyone obsessed with negative thoughts about the monarchy, which it said was a dangerous sign of insanity. The document was dated July last year and has since been removed from the Department of Mental Health website, but I saved a copy here. Probably not coincidentally, July 2020 was the month when Khon Kaen resident Tiwagorn Withiton was forcibly incarcerated in a psychiatric hospital for sharing a selfie wearing a T-shirt with the slogan "I lost faith in the monarchy".
Unexpectedly, this is the second time the Department of Mental Health has featured in my newsletter this month — a couple of weeks ago I wrote about how they fired Miss Universe Thailand pageant winner Amanda Obdam as an ambassador because she criticised police brutality against peaceful protesters.
---
"Who would be that stupid?"
Prayut and the cabinet finally got inoculated with the AstraZeneca vaccine last week, more than a month behind schedule. Demonstrating his total ignorance of basic scientific and medical principles, Prayut declared that because he'd suffered no side effects the vaccine must be totally safe, and called for its deployment to be speeded up. As The Nation reported:
"It has been verified that there is no bad reaction from the AstraZeneca vaccine," said Prayut after getting his jab this morning.
It's probable that the vaccine is indeed safe, but the fact that Prayut experienced no side effects is irrelevant to the ongoing controversy over whether it can cause deadly blood clots.
Meanwhile, last Tuesday, Move Forward Party MP Wiroj Lakkhanaadisorn went to the health ministry to ask to see documents relating to the controversial AstraZeneca deal with Siam Bioscience and was intimidated by a group of thugs who surrounded and harassed him. Some of them were wearing Bhumjai Thai polo shirts hastily turned inside out, and photographs have confirmed that several others also work for health minister Anutin Charnvirakul. It was a clear attempt to scare off anyone asking questions about the vaccine strategy debacle, and Anutin's fingerprints were all over it.
Anutin unconvincingly denied that he was behind the harassment of Wiroj. Asked by journalists if he was responsible, he correctly observed that only an idiot would order such clumsy and obvious intimidation, and exclaimed: "Who would be that stupid?" We all know the answer to that question.
อนุทินแจงปมคนใส่เสื้อสโลแกนพรรคกลับด้านดักโห่ไล่ส.ส.วิโรจน์ ถามทำไมไม่มองว่าจัดตั้งมาแกล้งภูมิใจไทยบ้าง ใครจะไปโง่ขนาดนั้น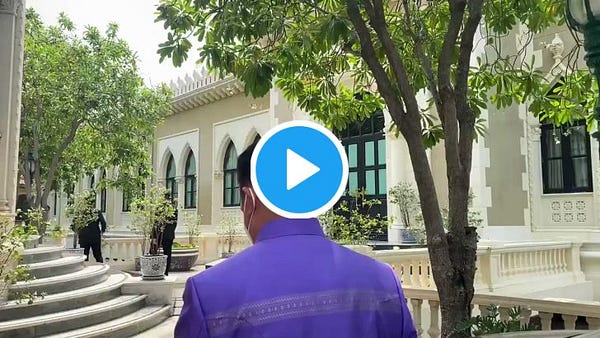 ---
Borderline criminal behaviour
The murderous crackdown by the Myanmar military on protesters opposing the coup has put the Thai regime in a difficult position. Privately, Prayut and Thailand's generals are desperately hoping resistance is snuffed out in Myanmar, because if protesters manage to topple the junta it could give renewed impetus to Thai activists and create momentum for democracy movements throughout the region. Also, the Thai generals are old friends of their Myanmar counterparts and have plenty of lucrative trade deals and shady border businesses together. Publicly, the Thai government is trying to say as little as possible.
But the Thai regime has been caught red handed supplying 700 sacks of rice to Myanmar military forces cut off by Karen National Union insurgents in a border area near Mae Sot. Thai army officers and government officials have given several conflicting statements and excuses, as usual when they get caught out. Some denied that any rice had been given to the Tatmadaw, others acknowledged that rice had indeed been sent over the border but insisted it was just a normal trade deal, and eventually Prayut got involved to deny anything untoward had happened, saying vaguely that the rice was handed over as part of "humanitarian" and "security" efforts. Meanwhile, the large mound of rice is still sitting at the border as the controversy continues.
---
Attacking academics
At the recent FCCT debate on the lèse majesté law, royalist panelists insisted that Article 112 does not undermine academic inquiry. This was clearly not true, as illustrated last week by the hounding of Thai scholar Nattapoll Chaiching over his PhD thesis, and the harassment of eight Thai university lecturers who have been trying to secure bail for detained protest leaders. It's no surprise that a study this month rated Thai academic freedom as among the worst in the world, as bad as Saudi Arabia and North Korea.
---
And finally…
Thai ultraroyalist Wiroj Dechgitvigrom provided some entertainment last week by accusing me last week of being involved in an international conspiracy to attack Thailand. You can read a Thai PBS story about his accusations here.
Meanwhile, in a story so absurd it is beyond parody, the most notorious gangster in the cabinet, Tamanat Prompow — who has a fake PhD, has faced murder charges, and spent four years in jail in Australia after being caught smuggling heroin — has written an urgent letter to Prayut demanding that two government officials be removed because of their "shady backgrounds".
---
That's all for this edition. My next newsletter will be an analysis of where Thailand is heading and whether it's true that the protest movement is in terminal decline. Thanks for reading!